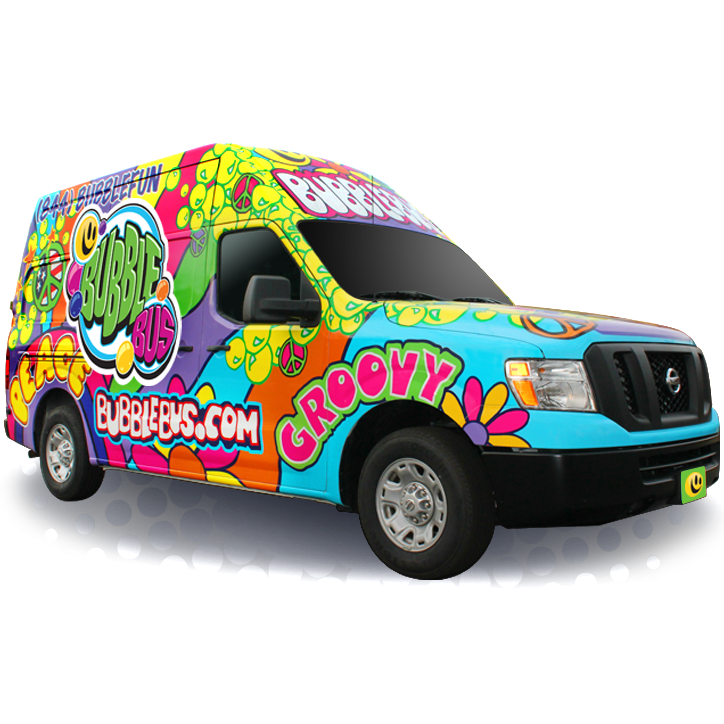 Own A Home-Based Mobile Special Events Business!
Complete this form to learn more.
EVERYONE WANTS TO BRING A CROWD TO THEIR EVENT!
Fill the sky with bubbles of all shapes & sizes to attract attention for retail events & provide enjoyment for all ages at festivals, fundraisers, parties, concerts & more.
Why A Bubble Bus Franchise?
Bubble Bus has a ten-year proven track record of success! With the freedom of flexible scheduling & low overhead & operating expenses, Bubble Bus is truly a lifestyle business. Some of the top reasons for becoming a Bubble Bus franchisee include:
Ready! Set! Go!
Your Bubble Bus vehicle comes to you completely built-out and ready to go.
Marketing Support
We will share our tried-and-true strategies for marketing.
Personal Training
A three-day training program necessary to manage your Bubble Bus business.
High Demand
You will have the only Bubble Bus Franchise in your territory!
Flexible scheduling
The freedom and flexibility to schedule appearances around your availability.
Financeable Investment
Third party financing available.
UV Glowing Black Light Bubbles!
Your Bubble Bus services will be an excellent family-friendly choice for groups that want to attract or entertain a crowd!
Retail Events
Day Care/Pre-schools
Weddings
High School Dances
Pep Rallies
Milestone Celebrations
Festivals & Fairs
Charity Fundraisers
College Events
Corporate Picnics
Birthday Parties
Parades
Retirement Communites
5K/10K Runs & Walks
Request Bubble Bus Franchise Information
Join us as we spread BUBBLES and FUN throughout the land!
Complete the form below to receive additional Bubble Bus franchise information.